Business News
June 27th, 2022
Local hero to be honoured for saving pensioner from drowning

A Worthing businessman and longstanding customer of Inside Magazines is to be honoured after he saved the life of a pensioner who got into difficulty in the sea.

Henry Smith, 37, was enjoying the sunshine by the pier on Worthing seafront with his mum, wife and two children when he spotted Lesley Clark, 84, struggling in the water on Friday (17 June).
Read More
---
June 22nd, 2022
Gets the dates in your diary for the biggest Carnival Weekend Worthing has seen

This year is a 3 DAY EVENT.

Saturday - Carnival Showcase & stalls
Sunday - Music, stalls and Car show (tbc)
Monday - Music, stalls and Parade

Across all days there will be stalls on Steyne Gardens and the fair along the prom.

#carnival #soca #carnaval #caribbean #trinidadcarnival #trinidad #jamaica #party #miamicarnival #music #love #dancehall #fete #travel #socamusic #photography #fun #nottinghillcarnival #grenada #carnevale #festival #barbados #art #jouvert #trinidadandtobago #carnivalcruise #reggae #miami #costume #caribana
Read More
---
June 9th, 2022
Report calls for Council and businesses to work together to improve Worthing town centre
Business leaders and Council officers should work more closely together to help traders in Worthing town centre to flourish, a new report argues.

A Worthing Borough Council working group recommends that the town's Business Improvement District (BID) should continue for a further five years to encourage more visitors to the area.
Read More
---
June 1st, 2022
World's first 100% hydrogen-fired bricks to be made and tested in Sussex
A Greater Brighton project has been given £292,000 of government funding to create the world's first 100% hydrogen-fired clay bricks.

Members of Hydrogen Sussex are working with West Sussex-based Michelmersh, the UK's fourth-largest brick makers, on the innovative project.

Hydrogen Sussex was launched by Greater Brighton Economic Board last year to support the development of a low carbon hydrogen economy across the county. Its members include local authorities, businesses, transport providers, utilities companies, colleges, the universities of Brighton and Sussex and many other organisations.

Funding from the Department for Business, Energy and Industrial Strategy's industrial fuel switching competition through its Net Zero Innovation Portfolio will be used to conduct a trial to test the viability of using hydrogen in the brick-making process instead of natural gas at
Michelmersh's site in Freshfield Lane, Danehill, near Haywards Heath.

The Hybrick study will use green electrolytic hydrogen - hydrogen that has been produced using renewable energy - in the brick-firing process.

The bricks produced will then be tested under different heat and weather conditions in a laboratory to compare they have the strength and durability of bricks made traditionally using natural gas.

In total, the UK brick manufacturing industry produces 1.9 billion bricks a year (of which Michelmersh produces 125 million bricks) and emits over 1 million tonnes of CO2 annually. If the trial is successful, replacing natural gas with hydrogen in the brick-firing process could cut emissions from the industry by 80%.

Hydrogen Sussex members Limpsfield Combustion, the University of Brighton, Net Zero Associates and Greater SouthEast Net Zero Hub are working on the project with Michelmersh. A team from the University of Brighton will also carry out air quality testing to monitor the impact of using hydrogen in the brick production process.

The project aims to inspire radical change across the sector by presenting opportunities and evidence-based research to help manufacturers to decarbonise their production processes.

Michelmersh Innovation Director Sarah Le Gresley said: "This is an exciting and significant project that could make a huge difference to the environment not just in the UK but around the world.

"By pushing the boundaries to a whole new level, we can help the UK to become a world leader in sustainable manufacturing."

Sarah is working together with Michael Brophy, Michelmersh Group Production Director, who is enthusiastic to explore the engineering, production capabilities and requirements that will take sustainable UK manufacturing to the next level.

Hydrogen Sussex is working with its members on projects to develop the technology to support the use of low carbon hydrogen across a variety of sectors, including heavy transport and the maritime sector to power HGVs, boats and larger vessels instead of fossil fuels, and to identify potential locations in the region where hydrogen could be produced using renewable energy.

Project manager Abigail Dombey, the Chair of Hydrogen Sussex and Director of Net Zero Associates, said: "It's incredibly exciting to be involved with the production of the world's first 100% hydrogen-fired clay bricks.

"Construction is a huge contributor to carbon emissions so this environmentally-friendly innovation will play a vital role as a building block in our net-zero future."

John Taylor, from the Greater South East Net Zero Hub and the Vice Chair of Hydrogen Sussex, said: "Brick-making has a historic association with Sussex and bricks are one of the most widely used commodities in the world.

"As embodied carbon emissions go up the building agenda, this project comes at an important time to prove even the most familiar industries can deeply decarbonise. We're pleased to have helped bring together regional partners to deliver this ground-breaking project."

The funding is part of the government's £1 billion Net Zero Innovation Portfolio (NZIP), which aims to provide funding for low-carbon technologies to reduce the costs of decarbonisation in the UK.

Greater Brighton aims to lead the way in switching to cleaner, renewable power and laying the foundations for the development of a thriving low-carbon economy. Its energy plan aims to tackle climate change and help the city region become carbon neutral by 2030.
Read More
---
Topics
Recent Posts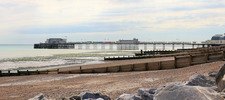 Safety warning after two men die in Worthing sea accidents
May 31st, 2023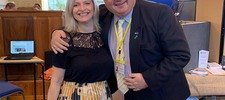 Mental Health Expo 2023
May 24th, 2023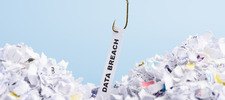 Investigation into Capita data breach progressing
May 23rd, 2023
Have You Seen...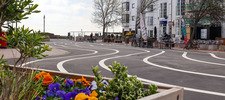 Brightening up Montague Place
April 26th, 2022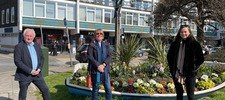 ANGER AT MONSTROSITY OF 5G POLE PROPOSAL AT BROADWATER SHOPS
March 25th, 2021