April 26th, 2022
Brightening up Montague Place
An array of colourful plants and shrubs, as well as decorative street lighting and new seating areas are set to brighten up Montague Place as the next stage of a planned regeneration project.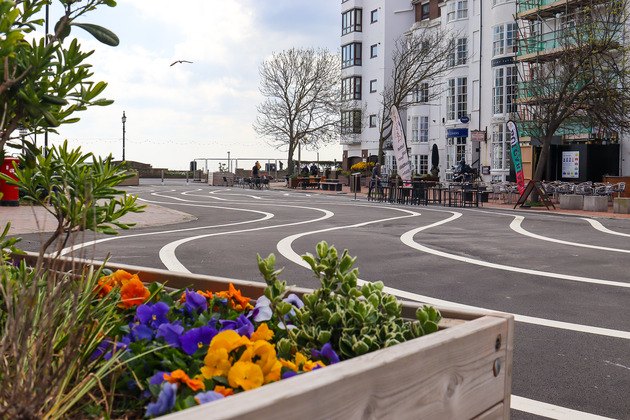 The finishing touches to the temporary scheme will be made over the coming weeks while Worthing Borough Council gears up to start consulting with local businesses and residents over the long-term plan for the pedestrianised zone.
Linking the seafront to the town centre, the new temporary phase one public realm is set to include flowers and trees to complement the new seating areas and modern lighting that will offer visitors an attractive outdoor meeting space.
In addition, the continental-style painted 'squiggly lines' on the tarmac are inspired by cities like Copenhagen and designed to brighten up the naturally dark tarmac as part of the project that has been funded by central government.
The east side of Montague Place will be utilised for cultural events, pop-up markets and community events, while businesses on the west of the public realm now have an inviting open space to accommodate al fresco customers.
The area will also eventually be equipped with a Gigabit Citizen WiFi, allowing free access to ultra-fast public broadband services.
Making the area permanently car-free will help reduce carbon emissions as the Council continues its pledge to go carbon neutral by 2030.
A Council spokesperson said: "We wanted to transform Montague Place and provide residents, businesses, shoppers and visitors with an inviting landscaped open space that can be used for a variety of things - whether meeting up with friends for a coffee or something to eat at one of the many excellent eateries, relaxing in the sun or visiting one of the events that will be held over the summer.
"The new planters and flowers will really add some colour, while the new lighting and seating areas will make a perfect meeting place that is car-free and more aesthetically pleasing for everyone.
"Initially this is a temporary project and we are preparing an engagement exercise to understand what people want to see in the long term to benefit this wonderful area of the town centre."
The disabled parking spaces that were temporarily relocated to Marine Parade outside Marks & Spencer have now been made permanent, whilst new disabled bays have also been installed in the Montague Quarter car park. The loading bays at the seafront end of Montague Place will remain in place for business use.
Worthing Borough Council, working with West Sussex County Council, will be asking residents and traders what they would like to see in Montague Place in the long-term. Work on the permanent new look could begin in 2023.
The Council is also regenerating Portland Road and Railway Approach as part of a partnership agreement with West Sussex County Council.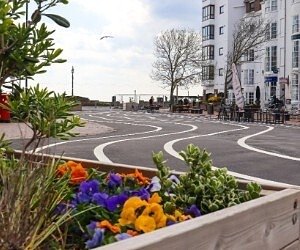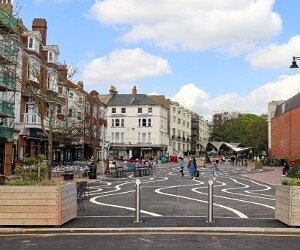 Tags:
Worthing
---
Comments (13)
sandra
- April 26th, 2022 12:47pm
it's very windy down there, surly we will freeze
Reply
---
Bee
- April 26th, 2022 1:07pm
Another total waste of tax payers money.
Reply
---
Reece winter
- April 26th, 2022 3:05pm
As a disabled person I am shocked at loosing disabled parking bays.
Also as a local business owner I presume we are having to fund it
Reply
---
Lin Goldsmith
- April 26th, 2022 4:15pm
Great to see this central part of the town centre having improvements- where people will be encouraged to meet up and hopefully bring life back into the town centre. It would be really nice to see some sort of bandstand/ stage area with extra seating here - local groups etc could hire this - while cafe goers etc can sit and enjoy the entertainment. Even in the early evenings performances would be nice to keep people in the town longer using local restaurants and late opening cafes through the summer. 👍
Reply
---
S hayes
- April 26th, 2022 5:44pm
You say pedestrianised but wheelchair and frail people will automatically think good smooth and safe , but typically as usual the Worthing council leave the kerbside in for a trip hazard
Can you explain or is it to save pennies
Shaun hayes
Reply
---
Alan
- April 26th, 2022 7:07pm
This is an ill thought out project.
No-one local has been consulted on this. Local residents do not want it and think it is a complete waste of taxpayers money!
This is the second section or Road in the town centre which has been closed to traffic like this with a "project" since the beginning of the pandemic when local businesses have already been hit hard.
Businesses will suffer further with reduced parking, forcing people out of the town centre, disabled parking is further away from the town centre too which means they have to walk further, potentially stopping them from using the shopping facilities.
Parking hasn't been replaced, it's simply been taken away. No additional spaces have been created. A couple of token disabled bays have been put on the seafront where there was previously double yellow lines. Montague place had 8 disabled bays and 6 on street parking bays, a taxi rank, 2 delivery bays and a motorcycle bay, all now gone and not replaced.
Deliveries have also been forced further away from businesses making logistics a bigger problem than is already.
The council has not thought about the longer term consequences of this project and damaged Worthing irreparably.
Reply
---
Peter saggs
- April 26th, 2022 11:05pm
Sorry don't like the wavy lines .
Who is paying for this if it's only a temporary design and the cost to remove it at some time is going to cost more money so why pay out for something that is temporary. This area needs plenty of seating and loads of colour to brighten up a prime site with cafes etc .all nearby the blank walls need perhaps advertising boards which could be adopted by local businesses to help promote Worthing .
Reply
---
Carole Harrison
- April 26th, 2022 11:32pm
What I would love to see is somewhere I can park safely so that I can get myself, my assistance dog and my wheelchair safely out of the car without having to get out of the car into the line of moving traffic, unsteadily manoeuvre to the back of the car to get my dog and wheelchair out, without then having to drive the wheelchair and my dog into or away from traffic, to get to the nearest drop curb. Putting myself and my dog in danger. Also needing room for the boot to open and space to get the chair out.
Reply
---
Graham Elcome
- April 27th, 2022 6:50am
Where has the Disabled Parking been re-located to ??
Reply
---
Hodson
- April 27th, 2022 8:00am
Where are the disabled parking spaces, have they been moved elsewhere
Reply
---
Hazel Horsnell
- April 27th, 2022 5:43pm
I dont like wavy lines, it makes me feel giddy and nauseous. Worthing town centre needs more free seating. There are a high proportion of elderly and disabled people who would like to rest without having to buy refreshments from a cafe to use their seating.
Reply
---
Steve cummings
- April 27th, 2022 6:06pm
Can they make into parking as we lost lots of spaces recently in the area?
Reply
---
Steve Reynolds
- April 29th, 2022 4:02pm
What a total waste of council tax funds, surely there are far more important things to be done around the area in this time of hardship
Reply
Leave A Comment


Thank you for your comments, they will appear shortly once approved.
Topics
Recent Posts
New temporary accommodation could help house local residents in need
December 8th, 2023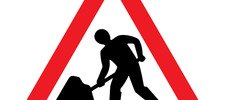 ROADWORKS ALERT!!
December 5th, 2023
Work starts on disability-friendly allotments in Durrington
December 1st, 2023
Have You Seen...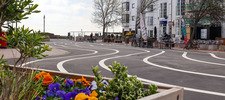 Brightening up Montague Place
April 26th, 2022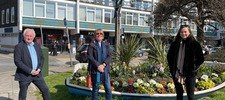 ANGER AT MONSTROSITY OF 5G POLE PROPOSAL AT BROADWATER SHOPS
March 25th, 2021