November 22nd, 2021
Worthing unwraps a range of festive treats for Christmas
Visitors to Worthing can look forward to a range of festive treats this year, including a full Alpine dining experience...on the seafront, and a spectacular laser show to light up the December night sky.

The pop-up Alpine Lodge Bar & Kitchen, which is being constructed in Montague Place this week to open the first week of December and is a collaboration between several Worthing businesses, will serve up the tastes of the French and Austrian ski slopes.

And back by popular demand, BAFTA award-winning artist Seb Lee-Delisle will present his Laser Light City show in the week before Christmas. Last year's dazzling outdoor event drew thousands of people from across the region to Worthing seafront.

The attractions are being delivered as part of the Christmas in Worthing campaign - a fun-filled calendar of festivities - which was officially launched on Friday when the Christmas tree lights in Montague Place and the twinkling decorations across the town were switched on.

Christmas in Worthing is the latest initiative from Time for Worthing - a collaboration between Worthing Borough Council, the Town Centre Initiative (TCI) and community organisations - with the aim of supporting the local economy and welcoming visitors to the town over the festive period.

In conjunction with the Christmas in Worthing campaign, TCI has launched the new Worthing Gift Card which recipients can use at over 60 participating shops, restaurants, cafes and leisure facilities and support local businesses in town. The popular toy soldier and Christmas tree trail will also be back this year, with prizes for collecting the names of all the large figurines.

In addition, Worthing Borough Council will be providing free parking for Christmas shoppers on Saturday 11th and Saturday 18th December at the Buckingham Road multi-storey car park.

Many of the popular Christmas attractions which were unable to take place last year due to the COVID pandemic are returning to the town. This includes the pop-up Worthing Ice Rink at Steyne Gardens and family panto Beauty and the Beast, which opens at the Pavilion Theatre at the end of this month.

And local residents and visitors can look forward to the annual winter pop-up shop at Colonnade House featuring free festive decoration-making workshops, as well as the East Beach Christmas market.
Sam Whittington, Chair of the Worthing TCI and Member of Time for Worthing, said, 'We're thrilled to have so many local businesses on board for the Worthing Gift Card, which will make the perfect Christmas present. It's a great way to showcase the wide range of retailers and services we have right here in Worthing and encourage people to shop local and support the high street."
Cllr Kevin Jenkins, Leader of Worthing Borough Council said: "After a challenging time for many, we wanted to ensure the year ends with some festive cheer. We're delighted to be partnering with local businesses and community organisations to deliver some amazing events and activities in the countdown to Christmas and welcome people into our town."

Find out more about Christmas in Worthing, which will be promoted on posters and on social media, at the Time for Worthing website: https://timeforworthing.uk/whats-on/

PHOTO CREDIT: Jan Budgen
And back by popular demand, BAFTA award-winning artist Seb Lee-Delisle will present his Laser Light City show in the week before Christmas. Last year's dazzling outdoor event drew thousands of people from across the region to Worthing seafront.
The attractions are being delivered as part of the Christmas in Worthing campaign - a fun-filled calendar of festivities - which was officially launched on Friday when the Christmas tree lights in Montague Place and the twinkling decorations across the town were switched on.
Christmas in Worthing is the latest initiative from Time for Worthing - a collaboration between Worthing Borough Council, the Town Centre Initiative (TCI) and community organisations - with the aim of supporting the local economy and welcoming visitors to the town over the festive period.
In conjunction with the Christmas in Worthing campaign, TCI has launched the new Worthing Gift Card which recipients can use at over 60 participating shops, restaurants, cafes and leisure facilities and support local businesses in town. The popular toy soldier and Christmas tree trail will also be back this year, with prizes for collecting the names of all the large figurines.
In addition, Worthing Borough Council will be providing free parking for Christmas shoppers on Saturday 11th and Saturday 18th December at the Buckingham Road multi-storey car park.
Many of the popular Christmas attractions which were unable to take place last year due to the COVID pandemic are returning to the town. This includes the pop-up Worthing Ice Rink at Steyne Gardens and family panto Beauty and the Beast, which opens at the Pavilion Theatre at the end of this month.
Local residents and visitors can look forward to the annual winter pop-up shop at Colonnade House featuring free festive decoration-making workshops, as well as the East Beach Christmas market.
Sam Whittington, Chair of the Worthing TCI and Member of Time for Worthing, said, 'We're thrilled to have so many local businesses on board for the Worthing Gift Card, which will make the perfect Christmas present. It's a great way to showcase the wide range of retailers and services we have right here in Worthing and encourage people to shop local and support the high street."
Cllr Kevin Jenkins, Leader of Worthing Borough Council said: "After a challenging time for many, we wanted to ensure the year ends with some festive cheer. We're delighted to be partnering with local businesses and community organisations to deliver some amazing events and activities in the countdown to Christmas and welcome people into our town."
Tags:
Worthing
---
Comments (0)
No comments have been submitted yet.
Why not be the first to send us your thoughts
Leave A Comment


Thank you for your comments, they will appear shortly once approved.
Topics
Recent Posts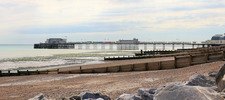 Safety warning after two men die in Worthing sea accidents
May 31st, 2023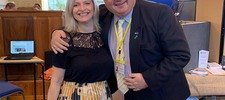 Mental Health Expo 2023
May 24th, 2023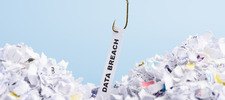 Investigation into Capita data breach progressing
May 23rd, 2023
Have You Seen...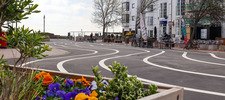 Brightening up Montague Place
April 26th, 2022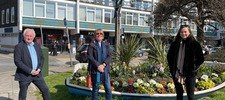 ANGER AT MONSTROSITY OF 5G POLE PROPOSAL AT BROADWATER SHOPS
March 25th, 2021