Local News
April 3rd, 2023
Worthing's blueprint for the future gets green light

A blueprint for planning over the next 15 years in Worthing has been given the green light.

The Worthing Local Plan sets out the spatial strategy for the borough and seeks to accommodate new housing and commercial development, balanced against the need to protect and enhance the natural and local environment.
Read More
---
March 24th, 2023
No new charges at Worthing's free car parks
Charging will not be introduced at Worthing's free car parks after councillors consulted with members of the community.

Worthing Borough Council was considering introducing charges at its free car parks in Goring Road, Poulters Lane, Sea Lane, Marine Crescent, Brooklyn Avenue and Elm Grove to help fund the maintenance of the sites and other improvements.
Read More
---
March 23rd, 2023
Historic water feature returns to Highdown Gardens

An historic water feature is to return to life at Highdown Gardens with the help of 21st Century sustainable solar-powered technology.

The water feature at Highdown was built in the 1930s and has long been a visitor favourite, providing a calming space and delicate backing track for people to enjoy on their walk around the pond and gardens.
Read More
---
March 22nd, 2023
Worthing's financial reserves to be topped up after legal victory
The rainy day reserves of Worthing Borough Council are to be topped up after the success of a long-running legal battle against HMRC.

In 2011, the Council joined other local authorities from across the UK to challenge HMRC's ruling that it must pay VAT on income from leisure services.

For more than a decade the local authorities, supported by the accountancy firm KPMG, have argued that not only should they not pay VAT on the income, but that they should be allowed to reclaim the amount they had previously paid to HMRC so they could invest it in services instead.
Read More
---
Topics
Recent Posts
Have You Seen...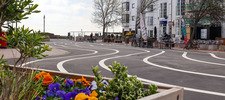 Brightening up Montague Place
April 26th, 2022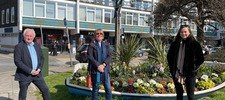 ANGER AT MONSTROSITY OF 5G POLE PROPOSAL AT BROADWATER SHOPS
March 25th, 2021